Utrennyaya Zvezda iz Sokolinogo Gnezda (6/20/2012-)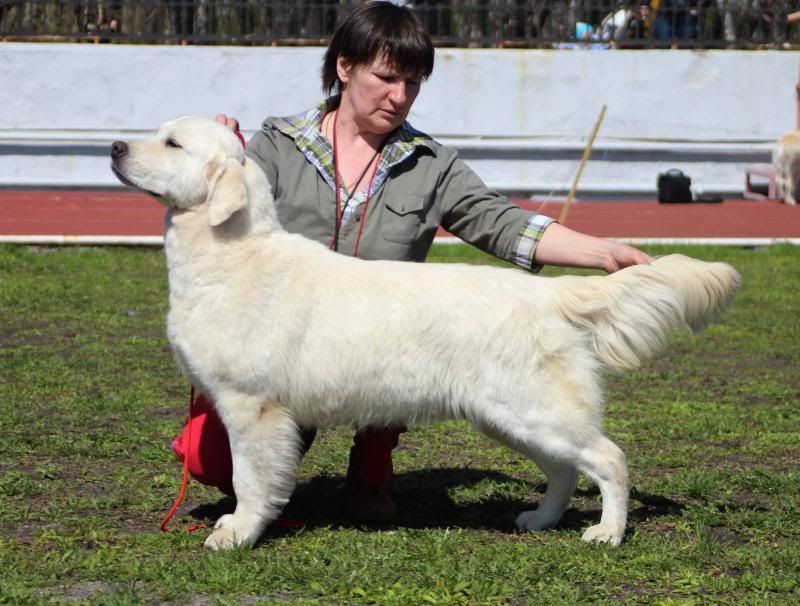 | | |
| --- | --- |
| Call name: | "Aurora" |
| Gender: | F |
| Country of origin: | Russia |
| Country of residence: | Unknown |
| Registration: | Other RKF 3359843 |
| Breeder: | Tatyana Sokolova |
| Owner: | Bruce Nelson Northern Lights Retrievers |
| Microchip/Tattoo # | 643094100051146 |
| Hip clearance: | FCI HD-B |
| Eye clearance: | FCI Clear |
| Heart clearance: | Clear |
| Elbow clearance: | FCI 0/0 |
| prcd-PRA status: | Antegene Clear |
| PRA1 status: | Antegene Clear |
| Ichthyosis status: | Optigen Carrier |
| Image linked by: | Elena Ponomareva [Click to edit image] |
Pedigree:
Utrennyaya Zvezda iz Sokolinogo Gnezda

Int. Sh. Ch , Int. Ch , Lux/Dk/Dt-VDH/Swiss/Fr. Ch Ashbury Angel Heart
WW'13, INT CH, RUS/EE CH Cheremuha iz Sokolinogo Gnezda

| | |
| --- | --- |
| EW'09, Lux, German/VDH JCh, German/VDH Ch, Swe Ch Artic Light du Pays de Boheme NordW, FinW, Sieger Leipzig, Bundes Sieger | |
| IntCh, ChRUS, LIT, EST, MONT, RKF, LIT WINNER2006 Enessi iz Stolitsy Urala | |
---
Use of this site is subject to terms and conditions as expressed on the home page.